Professional structure and successful presentation


Whether it is the startup, investment or project financing, a corporate merger or the sale of a business – there are many occasions (milestones) or imperative needs in a company's life to work out a professional business plan.
The authors, Dipl. Business Economist Fred Ludolph and Sabine Lichtenberg, have in their many years of practice as managing partners of OET GOLDEX Handels- und Consulting GmbH in the field of structured financing of industrial plants or turnkey factories, reviewed countless business plans and come to the following conclusion:
"Many "business plans" are not worth the paper they were written in. They are either cluttered and /or extravagant in form, many also incomplete or unrealistic and flawed in terms of projected business numbers (payback time, cash flow, etc.). The refusals of financial institutions, guarantors or potential investors are usually pre-programmed or require a thorough and often time-consuming and costly revision with the help of experienced advisers."
With this handbook, published by ECON publishing company in Munich, plus a CD-ROM, business start-ups, entrepreneurs and managers can professionally work out their special business plan step by step. A series of practical examples makes it easier to formulate the individual chapters of the business plan.
The CD-ROM attached to the book is unique in that the user not only sees the pattern for his own business plan, but also Excel spreadsheets (capital requirements plan, balance sheet planning, profit and loss, liquidity and financial plan, etc.) with sample calculations.
You can purchase the book through bookstores or directly from us. We deliver the book by cash on delivery or prepayment (check or bank transfer) free domicile. Upon request, we will gladly send you additional checklists for a project exposé and the company analysis (due diligence) in addition to the book at no extra cost to you.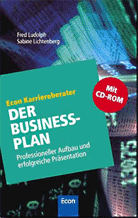 Autor(en):
Fred Ludolph
Sabine Lichtenberg
ISBN:
3-430-16203-3
Verlag:
Econ
Format:
13,5 x 21,5
Ausstattung:
Gebunden mit Schutzumschlag, mit CD-ROM
Seiten:
228
Preis in Euro:
15,00
Book content
Foreword
Introduction: General information about the business plan
What is a business plan? – 10 most important uses
Basic rules for creating a business plan

Structure

and content of the business plan

1. Summary – Executive Summary
2. The company
2.1 Corporate History
2.2 Business idea (vision) and mission statement
2.3 Corporate strategy and business goals
2.4 Business organization (structure and process organization)
2.5 Consultants
2.6 Participations
2.7 Cooperation Partners and Strategic Aliances
2.8 Development of key figures (facts and figures)
2.9 Strengths / weaknesses
3. Management / Personal / Administration
4. Delivery and service profile
5. Markets
6. Competition
7. Marketing
8. Location / Infrastructure
9. Production
10. Risk analysis
11. Finance
11.1 Capital requirement plan at start-ups
11.2 Profit and loss account (including cash flow plan)
11.3 Cash flow statement and movement balance
11.4 The Revolving 12 Month Liquidity and Financial Plan
11.5 Business indicators
11.6 fFinancing
12. Appendix / supplements to the business plan
13. Facilities
13.1 Sample structure of a business plan with keywords to the content
13.2 Phase-specific statements in the business plan
13.3 Start-Up Checklist
13.4 Checklist: gathering information about the competition
13.5 SWOT analysis
13.6 For the strengths and weaknesses analysis
13.7 Questionnaire / Guide to Market Description and Creation of a Marketing Plan
13.8 Checklist to control the financing
13.9 Financial tables
Word documents
Sample structure of a business plan Chapter 13.1
Sample structure of the Executive Summary Chapter 1
Form SWOT Analysis Chapter 6



Excel workbooks
Capital Requirements Plan for Start-ups Chapter 11.1
Break-even analysis – simple profit and loss planning Chapter 11.2
Income Statement (including cash flow plan) Chapter 11.2
Cash Flow Statement and Balance of Movement Chapter 11.3
Revolving 12-Month Liquidity and Financial Plan Chapter 11.4
DuPont Indicator System Chapter 11.5
Financial Mathematics Chapter 9
Net present value calculation Chapter 9
Internal interest rate calculation Chapter 9
Annuity Calculation Chapter 9
Links
Order now
If you would like to order the book "The Business Plan" incl. CD-ROM for the single price of only 15,00 EURO (including VAT), you will not incur any packaging or postage within of Germany, please fill the
Form off.